Bisexual Survivors: A Focus on Survivor-Centered Design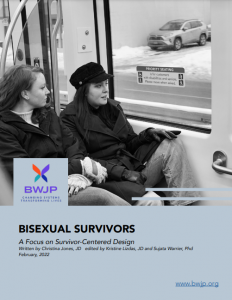 In this report, the Battered Women's Justice Project (BWJP) examines the experience of bisexual+ survivors of intimate partner violence due to the alarming statistics concerning violence against bisexual+ women and the lack of resources in the field that address barriers and systemic bi-antagonism existing within systems.
For decades, systems professionals have been attempting to address the problem of intimate partner violence through the work of Coordinated Community Response (CCRs). The results have been promising for certain types of survivors. Often the needs of groups who are white, cisgender, heterosexual, and not living with a disability have been addressed by CCRs. CCRs and Intimate Partner Violence and Homicide (IPVH) responses have largely ignored the concerns of survivors from various marginalized communities, including communities of color, LGBTQ+,1 and disabled. The oversight has meant that many of the survivor's face violence in the home have to deal with systems' responses that do not meet their needs. Systems' responses can further jeopardize them, may not be culturally responsive and may not be able to prevent homicides. CCRs are designed to bring about changes to the system, and a part of the process of change requires CCRs to continually examine their work and consider ways in which they can focus on marginalized communities.
Files
Related Resources