Immigrants and Refugees Are Welcome Here: A Resource Guide for Service Providers Working with Immigrants who are LGBTQ, Sex Workers, and/or HIV-Positive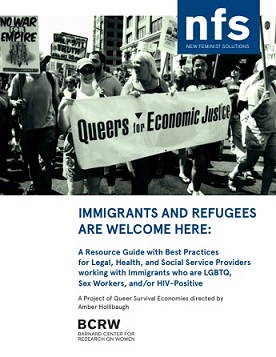 A Project of Queer Survival Economies directed by Amber Hollibaugh, produced with support from the Evelyn and Walter Haas, Jr. Fund
Description
Since the Trump administration took office in January 2017, violence against undocumented and documented immigrants, trans and gender nonconforming people, sex workers, Muslims, Black people and people of color, and other vulnerable groups has increased and taken many forms: economic, political, bodily, sexual, and social. People who occupy multiple marginalized social and structural positions experience these forms of oppression and violence with a sharper edge and more routinely in their everyday encounters. Though communities organize to resist this violence and build networks and systems for sanctuary and self-defense, people who are targeted by vigilante violence, racist policing, laws criminalizing poverty and survival-based economies, and the ramping up of local law enforcement and border enforcement have minimal access to legal recourse, systemic accountability, or reliable safety, reinforcing what are already precarious positions. Because of these conditions, immigrants who are documented and undocumented, LGBTQ, sex workers, and/or HIV-positive face particularly heightened vulnerabilities to violence, detention, family separation, deportation, and premature death.
This resource guide is intended for service providers to improve their competency in assisting clients in these dangerous times, and reduce secondary traumas in their practice. The guide contains a general overview of the landscape and vulnerabilities for immigrants who are LGBTQ, sex workers, and/or HIV-positive, suggestions for service providers in their daily practice, resources for organizational self-evaluation, and a glossary of terms. It is intended as a living document to be used and adapted based on feedback from clients, community members, activists, and service providers, as well as changes to our political landscape.
Table of Contents
Credits
Introduction: Understanding the landscape for immigrants who are LGBTQ, sex workers, and/or HIV-positive
Specific Vulnerabilities
Laws and Procedures
Do's & Don'ts for Service Providers
Needs Assessments
Glossary
Terms Related to Gender and Sexuality
Terms Related to Gender & Sexuality Oppression
Terms Related to Immigration
Terms Related to Sex Work
Terms Related to HIV
General Terms
Resource List
Organizations
Reports
Legal Resources
Bibliography
Queer Survival Economies was established in 2014 by Amber Hollibaugh to work at the intersections of sexuality, poverty, homelessness, labor, and the criminalization of survival.
From 2014-2016 Amber L. Hollibaugh was a Senior Activist Fellow at the Barnard Center for Research on Women where she directed the Queer Survival Economies project. Hollibaugh is a writer, filmmaker and political activist whose work focuses on feminist, sex, and class politics. Her first book, My Dangerous Desires: A Queer Girl Dreaming Her Way Home (2000), presents over twenty years of Hollibaugh's writing. Previously, Hollibaugh was the Chief Officer of Elder & LBTI Women's Services at Howard Brown Health Center in Chicago, the Executive Director of New York's Queers for Economic Justice (QEJ), Director of Education, Advocacy and Community Building at Services & Advocacy for GLBT Elders (SAGE). Among her health education work, she founded and directed the Lesbian AIDS Project at Gay Men's Health Crisis in New York, for which she won the Dr. Susan M. Love Award for Achievement in Women's Health.
The Barnard Center for Research on Women gratefully acknowledges support from the Evelyn and Walter Haas, Jr. Fund.
The Barnard Center for Research on Women engages communities through programming, projects, and publications that advance intersectional social justice feminist analyses and generate concrete steps toward social transformation.
Files
Resource Guide: Working with Immigrants

Download


Resource Guide: Working with Immigrants - Dos and Don'ts

Download

Related Resources