2015 Virginia General Assembly legislative updates, including a few significant firearms bill vetoes. The bills that passed will become law as of 7/1/15. This Power Point is from a presentation by Susheela Varky to Virginia legal aid attorneys on June 3, 2015.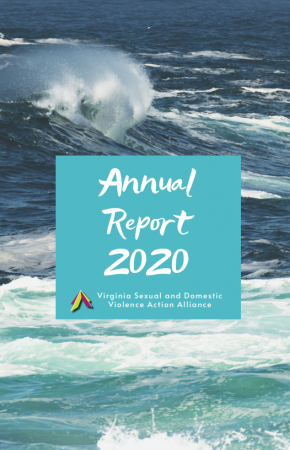 This is the Action Alliance's 2020 Annual Report. There have been so many things out of our control. This annual report illustrates our abilities to nimbly adapt to changing situations to meet members' needs; to pivot and shift services; to be and do better in our work to advance racial equity; and to build the foundations for a brighter future.
This is a Power Point describing some of the new laws as regards domestic and sexual violence that will become effective in Virginia as of 7/1/12.
Community-based crime victim advocacy programs that provide services to undocumented immigrant survivors of crimes can minimize risks to their program, funding, employees, and clients by adopting and following policies that take the laws on harboring undocumented immigrants into account. This Advisory answers common questions about providing shelter and other program services to undocumented victims, describes the law and federal policy (as of the Advisory's publication date), and proposes best practices for programs, but it is not legal advice. Immigration and criminal laws vary from region to region, and federal immigration enforcement policies are constantly changing. Programs should analyze their program-specific risks, their community's particular needs, and the laws in their jurisdiction—including legal duties associated with an agency's funding sources—as they design or update program policies. Consulting a local immigration attorney with criminal law experience is highly advisable.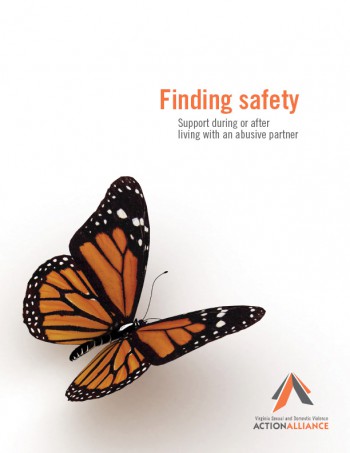 A handbook for people who are currently living with an abusive partner and/or have left an abusive partner. Topics addressed include: What is Abuse? How Does Abuse Affect You? Being Safe; Getting Help; Helping Your Children and Family Members; Allowing Time to Heal.
English and Spanish versions.
Published by Virginia Sexual & Domestic Violence Action Alliance.
12 pages.
Order brochures and other materials from the Action Alliance.