Journal: Revolution: Celebrating 30 years of progress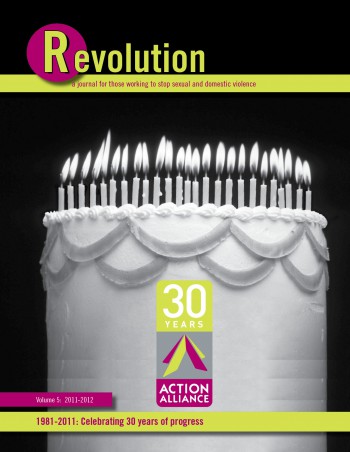 A journal for professionals working with victims/survivors of sexual and domestic violence. Volume 5 celebrates the 30th anniversary of the Virginia coalition, and includes the following topics: 30 Years of Making History; Reflections From Those Who Have Worked on the Front Lines; Survivors of Sexual & Domestic Violence Share Their Stories; A Brief History of Virginia's First Rape Crisis Center and Domestic Violence Program; Maps Depicting Expansion of Virginia's Domestic Violence Programs and Sexual Assault Crisis Centers; Brief Bios of the "30 Voices for 30 Years" Honorees.
Volume 5; January 2012.
Published by Virginia Sexual & Domestic VIolence Action Alliance.
68 pages
Files
Journal: Revolution: Celebrating 30 years of progress. Pages 1-33

Download


Journal: Revolution: Celebrating 30 years of progress. Pages 34-51

Download


Journal: Revolution: Celebrating 30 years of progress. Pages 52-68

Download

Related Resources