Kris Billhardt provided a great presentation at the 2016 Annual National Alliance to End Homelessness conference on serving Domestic Violence (DV) survivors with rapid re-housing (RRH). Former director of Volunteers of America in Multnomah County, Oregon, and current principal of her own consulting firm, Kris has worked in the domestic violence movement for over 30 years. Kris is a pioneer in finding housing solutions that meet the needs of DV survivors experiencing homelessness. And she has found over her many years of experience that housing solutions are central – not tangential – to helping DV survivors. Increased housing stability is a significant predictor of improvements for DV survivors in many areas of life:
Increased safety, decreased vulnerability to abuse
Lower levels of PTSD and depression
Higher quality of life
Increased ability to sustain employment
Improvements in children's outcomes
Click here to access the webinar slides.
(as presented by NNEDV and the Safety Net team on 10/18/2016)
HIPAA, VAWA, VOCA, and FVPSA all require protection of identifying information. But are they the same? Which is more protective? Is there a "gold standard" to follow? NNEDV's Safety Net team took an indepth look at the similarities and differences between privacy standards set by HIPAA and those required by VAWA, FVPSA, and VOCA, offering expert insight into how to check if programs are actually following appropriate and applicable privacy laws regarding client information and data, as well as clarity about the underlying goals of these federal laws and understand how they differ.
If you were unable to attend this webinar, the recorded version of the webinar is available at https://youtu.be/qCJagGiGiMQ.
Additional materials, handouts, and templates that you can adapt (such a model release forms and MOUs) can be found in their Confidentiality Toolkit at www.techsafety.org/confidentiality.
For many remote Indian communities, it often is difficult to create, develop and sustain trauma-informed and culturally appropriate services and resources as part of a health response for Indigenous women who have been sexually violated. Sexual assault nurse examiners (SANE) have specialized training, education, and experience in providing quality forensic medical examinations and patient-centered care to survivors. Given high medical staff turnover, it is challenging to keep SANE nurses on staff in tribal community health care facilities. Join us for this webinar to learn how the National TeleNursing Center, Hopi Health Care Center, National Indigenous Women's Resource Center, and Hopi-Tewa Women's Coalition to End Abuse are working effectively in partnership to respond using telemedicine to the needs of victims of sexual assault living on tribal lands with limited resources.
Click here to view the webinar.
This VAWnet webinar provides information on the impact of trauma in pregnancy and childbirth, and outlines how a partnership between advocates and birth workers in the community may be of benefit to pregnant survivors of domestic or sexual violence. Together, victim advocacy and doula skills can set in motion a new beginning for healthier relationships between survivors of abuse and their newborns.
http://www.vawnet.org/summary.php?doc_id=4511&find_type=web_desc_TT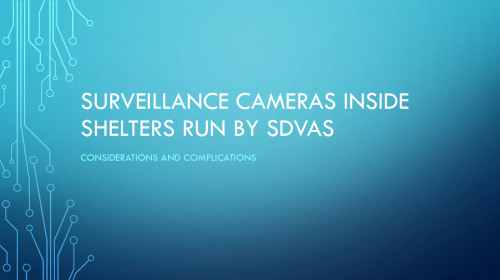 Across the U.S., there has been an increase in the use of video camera surveillance. Individuals are using these in their homes or just outside of the home to deter crime or monitor their homes while away. As with any technology, there are empowering uses and risks.
Recently, the National Network to End Domestic Violence (NNEDV), a partner and technical assistance provider for the Action Alliance, notified us that they have been receiving requests for information about the use of surveillance cameras inside shelter spaces. We have created some rough guidance for you based on
Virginia-specific laws (where applicable) and the experiences of Action Alliance staff to help you determine if this is the right path for your agency to take.
To view the recorded webinar, follow this link. For additional resources, see below.