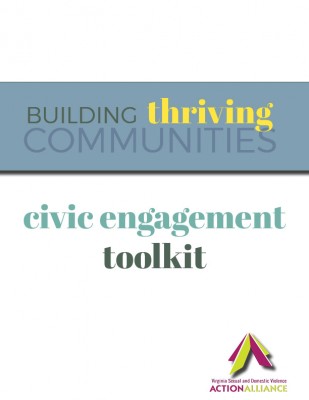 A toolkit to help unlock the power of individuals and communities to create a world in which all of us thrive.
The Building Thriving Communities: Civic Engagement Toolkit seeks to transform Virginia communities by increasing public participation in voting for candidates who align with their values and other means of civic engagement that promotes healthy futures.
Download the entire toolkit all at once to find all of these resources (below) designed to support you in increasing community engagement with voting, the formation of public policy, and becoming active participants in democracy. Or you may download the handouts and guides separately.
The core component of the campaign is to build authentic connections between people, across differences, and around issues that make communities healthy, safe, just, and compassionate for all.
This is a long-term campaign that draws upon the strength of the movements to end domestic and sexual violence: each person having a voice that is valued and respected, sharing stories as a tool for building understanding and mobilizing action, and empowering individuals and groups to bring about change in their own lives, in communities, and in the world.
The toolkit provides educational resources on civic engagement and strategies to engage communities and candidates.
Toolkit features:
* guide for facilitating community conversations around civic engagement;
* questions for candidates to build trauma-informed communities and systems;
* legislative advocacy guide;
* voting basics handout;
* print-ready posters to encourage voting for a #radicallyhopefulfuture;
* print-ready handout about why voting matters.

The National Coalition of Anti-Violence Programs research has shown that LGBTQ people of color are especially vulnerable to violence in intimate partner relationships. As LGBTQ people of color belong to multiple marginalized communities, it is even more dicult for these survivors to access services due to historical and institutional barriers along with personal and cultural challenges; where services do exist, they may not be culturally arming and relevant to the lived experiences of LGBTQ communities of color.
Raising awareness and education about an issue is one of the first steps to mobilizing and organizing communities to action. This toolkit was designed to provide our communities with strategies to create dialogue on intimate partner violence in communities of color, ways to support survivors, and identify resources for intimate partner violence.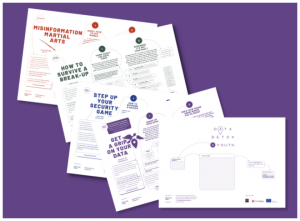 Data Detox x Youth is an activity book to help young people take control of their tech. This interactive toolkit encourages young people to think about different aspects of their digital lives, from their social media profiles to their passwords, with simple activities for reflection and play.
The activity book contains four sections:
- Digital Privacy, which focuses on reducing data traces and understanding online profiling;
- Digital Security, with tips on creating strong and secure passwords;
- Digital Wellbeing, which deals with the addictive nature of smartphones;
- and finally Misinformation, a guide for consuming and sharing information online.
The toolkit is designed for 11 to 16-year-olds who already have their own devices, but it can be used by people of all ages. All you need is a smartphone or a tablet, a printer and something to write with.
Places where the Data Detox x Youth could be used:
- In a classroom (or virtual classroom)
- At home
- By youth groups and organisations (e.g. in a workshop)
Also available in العربية (Arabic), Basque, Brazilian Português, Čeština (Czech), Deutsch, Español, Ελληνικά (Greek), Italiano, Nederlands, Norsk, Português and Shan.
This handout was provided by Linda Swimm, a private practice therapist, at the workshop titled "Children's Services" at the Virginia Department of Social Services Office of Family Violence Promising Practices conference held on September 16, 2013.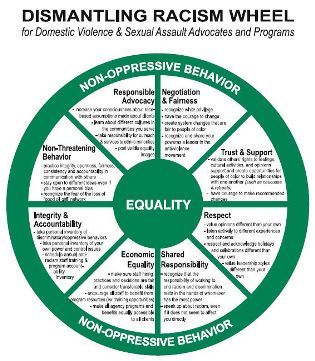 Two wheels created by the Women of Color Caucus and Social Justice Task Force of the Virginia Sexual and Domestic Violence Action Alliance. These wheels were created in the tradition of the Power and Control Wheel created by the Domestic Abuse Intervention Programs of Duluth, Minnesota. The Perpetuating Racism Wheel demonstrates how agencies might use power and control to perpetuate racism. The Dismangling Racism Wheel demonstrates how agencies can use principles of equaliaty to dismantle racism within their agencies.