Summary: Virginia's Plan for Primary Prevention of Intimate Partner Violence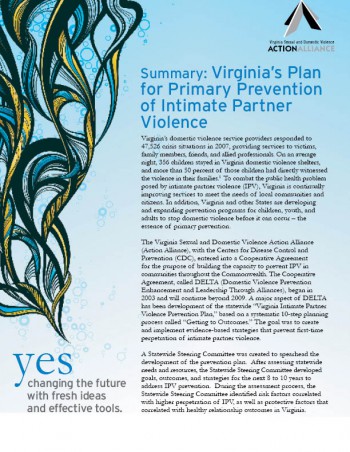 The Virginia Sexual and Domestic Violence Action Alliance (Action Alliance), with the Centers for Disease Control and Prevention (CDC), entered into a Cooperative Agreement for the purpose of building capacity to prevent IPV in communities throughout the Commonwealth. The Cooperative Agreement, called DELTA (Domestic Violence Prevention Enhancement and Leadership Through Alliances), began in 2003 and continues today.
A major aspect of DELTA has been development of the statewide "Virginia Intimate Partner Violence Prevention Plan," based on a systematic 10-step planning process called "Getting to Outcomes." The goal was to create and implement evidence-based strategies that prevent first-time perpetration of intimate partner violence. This document summarizes the 5 goals developed during the planning process.
Published by Virginia Sexual & Domestic Violence Action Alliance. 2009.
4 pages.
Files
Related Resources