Indigenizing Love: A Toolkit for Native Youth to Build Inclusion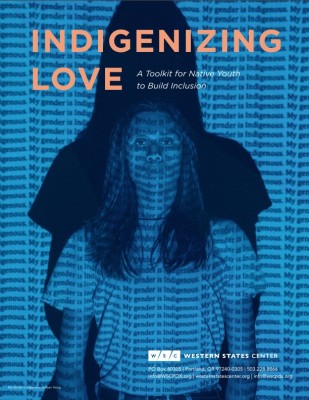 In response to requests from American Indian and Alaska Native (AI/AN) youth, Western States Center partnered with the Affiliated Tribes of Northwest Indians, the Center for Native American Youth, and Native Youth Leadership Alliance to develop a resource toolkit for and with young Native leaders.
This toolkit is written to support Native youth, tribal communities, Two-Spirit and Native LGBTQIA+ collectives, community leaders, and partners who intend to better understand and support our Two-Spirit and LGBTQIA+ communities. Native youth have asked for more resources on relationship building, caretaking, and inclusion of the TwoSpirit community. They want to better understand the important and diverse ways that Two-Spirit relatives and community members have sustained practices of making relations in spite of and beyond settler colonial violence.
Indigenizing Love refers to the idea of understanding and reclaiming our Indigenous ways of life (including kinship systems, shared values, and expressions of love), and resisting centuries of imposed settler colonial practices, policies, and thoughts that devalue our rights to share Indigenous knowledge and thrive. To Indigenize Love, we are rebuilding connections, kinship and relationships, and strengthening our abilities to love and care for all of our relatives.
Files
Related Resources