2015 Issue of "The Resource" from NSVRC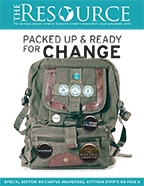 The Spring/Summer 2015 edition of The Resource shines a spotlight on campus sexual assault. Included in the special campus section are the following articles:
'The Hunting Ground': An interview with filmmaker Amy Ziering reveals it wasn't difficult to find survivors of campus sexual violence who wanted to tell their stories for the documentary film. "The sad thing is, there are way too many survivors," Ziering said.
Director's Viewpoint: Karen Baker, Director of the National Sexual Violence Resource Center, talks about a busy Sexual Assault Awareness Month in April 2015, the theme of which was "It's Time to Act: Safer Campuses, Brighter Futures. Prevent Sexual Violence."
Prevention preparedness: Are coalitions in the U.S. ready to lead primary prevention, campus-based efforts?
'From compliance to commitment': The North Carolina Campus Consortium hosted its first-ever Campus Sexual and Intimate Partner Violence Peer Educator's Summit.
Sexual Assault Awareness Month: Photos from 30 busy days of activism.
Other topics covered in this issue include: effective social media advocacy, The Six Pillars for Prevention of child sexual abuse, the 2015 National Sexual Assault Conference in Los Angeles, and more.
Files
Related Resources