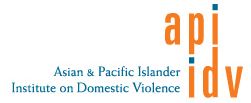 Asian & Pacific Islander Institute on Domestic Violence is a national training and technical assistance provider and a clearinghouse on gender violence in Asian, Native Hawaiian and Pacific Islander communities. It serves a national network of advocates, community members, organizations, service agencies, professionals, researchers, policy advocates and activists from community and social justice organizations working to eliminate violence against women.
Barriers to and Promising Practices for Collaboration between Adult Protective Services and Domestic Violence Programs is published by the National Center on Elder Abuse and the National Adult Protective Services Association (NAPSA). This report recommends that Adult Protective Services (APS) and Domestic Violence Programs collaborate on providing services for older adults experiencing domestic violence. Included are potential barriers to collaboration as well as examples of successful collaborations and initiatives.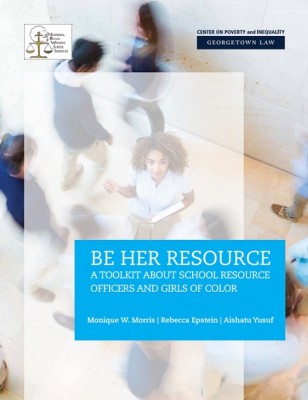 As the numbers of police in our schools steadily increase, so do the disproportionate rates of discipline against girls of color. In recognition of this reality, Georgetown Law's Center on Poverty and Inequality and the National Black Women's Justice Institute conducted focus groups and interviews primarily in the South with girls of color and police officers to gather first-hand information about their interactions.
Based on this work, this toolkit provides guiding principles and policy recommendations that are designed to improve interactions between girls of color and SROs, with the ultimate goal of reducing these girls' disproportionate rates of contact with the juvenile justice system.
Recommendations, resources, and concrete examples for campus leaders interested in implementing a trauma-informed and social justice-oriented response to sexual assault, dating violence, stalking, and other forms of gender-based violence on campus.
The Action Alliance created these recommendations based on more than 35 years of gender-based violence response, prevention, and policy work, as well as information gathered from a variety of governmental agencies, professional organizations, and survivor groups.
Recommendations, resources and specific examples are categorized by discipline:
• Campus Administrators
• Advocates and Campus-Based First Responders
• Faculty and other Instructional Employees
• Campus Law Enforcement and Campus Security
• Prevention Specialists
Interactive versions feature live links to concrete examples and resources.
Published September, 2021
111 pages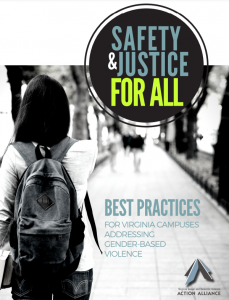 Click the image to download the guide!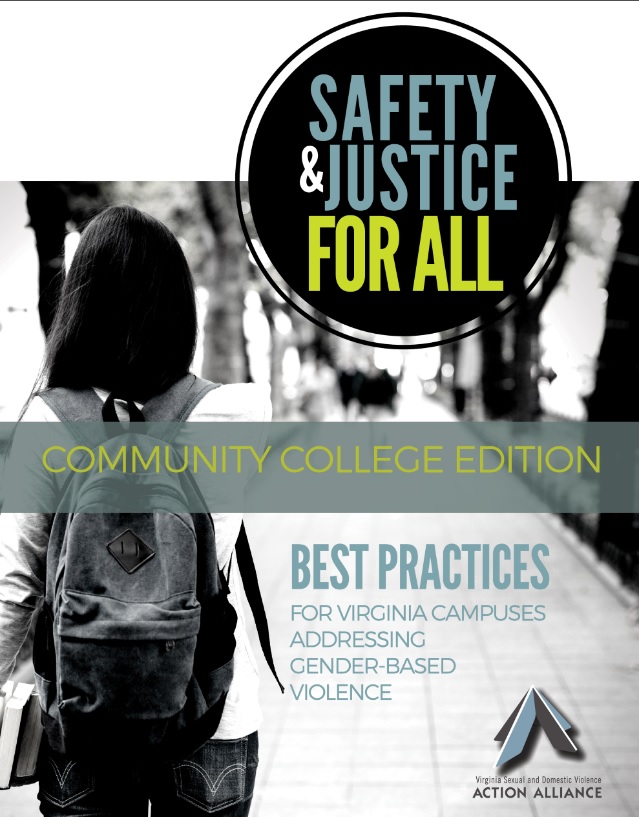 Published September, 2016
This Power Point presentation was presented by Qullin Drew Musgrave and Liz Cascone from the Action Alliance at the Virginia Department of Social Services Office of Family Violence Promising Practices conference on September 16, 2013.