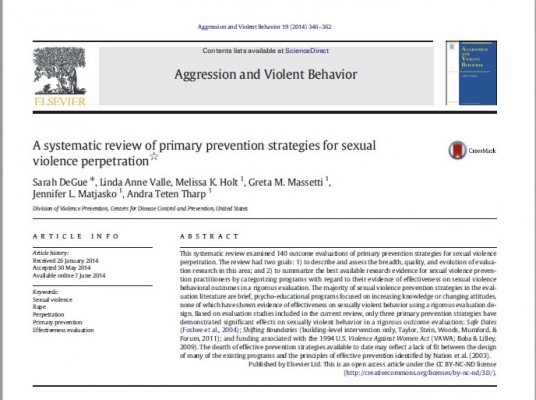 This systematic review from 2014 had two goals related to looking at primary prevention strategies for sexual violence: 1) to describe and assess the breadth, quality, and evolution of evaluation
research in this area; and 2) to summarize the best available research evidence for sexual violence prevention practitioners by categorizing programs with regard to their evidence of effectiveness on sexual violence behavioral outcomes in a rigorous evaluation.
The study found 3 strategies that had significant effects on sexually violent behavior in a rigorous outcome evaluation: Safe Dates (Foshee et al., 2004); Shifting Boundaries (building-level intervention only, Taylor, Stein, Woods, Mumford, & Forum, 2011); and funding associated with the 1994 U.S. Violence Against Women Act (VAWA; Boba & Lilley, 2009).
This article provides an overview of recent research studies looking at the relationship between intimate partner violence (IPV) and substance use. In addition to summarizing research findings, this article also takes a look at strengths and weaknesses of the existing research studying IPV and substance use. The article also provides recommendations for moving forward and next steps.
Published: 2015
The article is a part of the work of the National Center on Domestic Violence, Trauma & Mental Health. To find out more about the work of the NCDVTMH visit their website at www.nationalcenterdvtraumamh.org.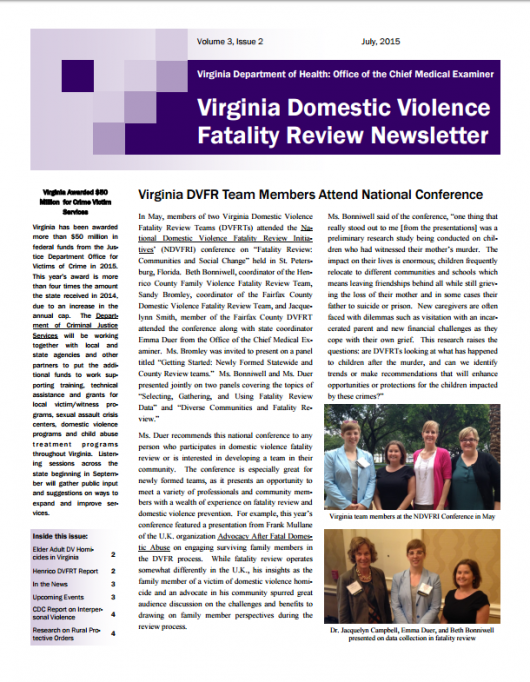 The Virginia Office of the Chief Medical Examiner makes news and resources available to local and regional Domestic Violence Fatality Review Teams through a semi-annual newsletter. The July, 2015 issue features a recap of the 2015 National Domestic Violence Fatality Review Initiative Conference and recent data on elder abuse deaths in Virginia. Previous issues can be found here: http://www.vdh.virginia.gov/medexam/dvfr/newsletters.htm
The January 2016 issue of the Virginia Domestic Violence Fatality Review Newsletter can be found here.