Trust Survivors: Building an Effective and Inclusive Cash Assistance Program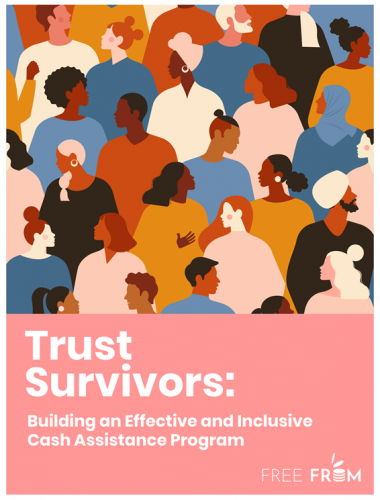 FreeFrom, a national organization, based in Los Angeles, with a mission to dismantle the nexus between intimate partner violence and financial insecurity, has created their groundbreaking report that compiles data and stories from 1,000 surviors about how to make cash assistance work for them.

The Biden-Harris Administration has pledged $5 billion to be used as direct cash assistance for survivors. At FreeFrom, they are thrilled about this promise as it is known from experience that survivors' #1 need is cash to spend as they see fit.
To help the Biden-Harris Administration design a survivor-centered program, FreeFrom asked an incredibly diverse sample of survivors what they need and overwhelmingly, they expressed that they need a program steeped in flexibility and trust.

Some key takeaways from the data:
71% of survivors were not seeking support from a domestic violence or sexual assault organization when they applied for a Safety Fund grant;
53% of survivors report that they do not have any "proof" that they are a survivor (e.g., police report or restraining / protective order);
68% of survivors can't or don't feel safe getting a police report;
69% of survivors can't or don't feel safe getting a restraining / protective order;
84% of survivors would not be able to access cash assistance if they had to meet certain added eligibility requirements beyond their experience of harm.
Download the report by clicking on the file below.
Files
Related Resources