Protective Order Booklet (English)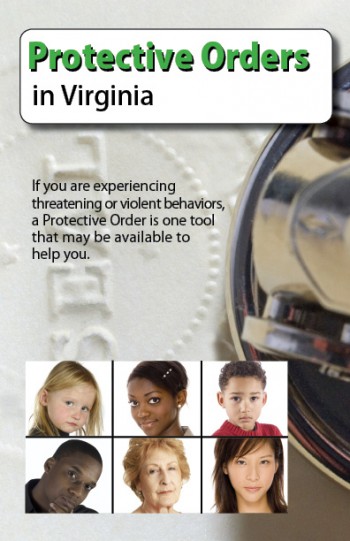 A pamphlet that thoroughly and plainly describes Virginia's Protective Order process. Includes: What is a Protective Order (P.O.)? Who is eligible to ask for one? Where to request a P.O.? What are the 3 types of P.O.s? What can a P.O. do? How do I ask for an Emergency P.O.? Where do I go to petition for a Family Abuse P.O.? Where do I petition for a (General District Court) Protective Order? Now that I have a P.O., what do I need to know? Also includes information about Protective Orders for teen dating violence, and guidance for the Lesbian/Gay/Bi-Sexual/Transgender (LGBT) Community. 16 pages. Published July 2011.
Order brochures and other materials from the Action Alliance.
Files