This FACT Issue Brief identifies forms of family violence and abuse faced by older adults and summarizes research on effective ways communities and households can identify and prevent further abuse. Promising strategies designed to protect the safety and security of the older adult population within the Commonwealth of Virginia are highlighted.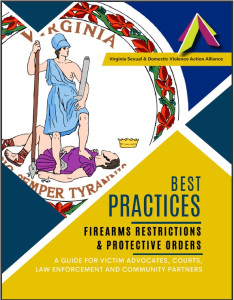 Recent changes in Virginia code pertaining to firearms, firearm restrictions, surrender of firearms, and new Substantial Risk Orders can substantially impact the lives and safety of survivors of intimate partner violence. To assist survivors in making decisions regarding petitioning for protective orders and with safety planning, it is essential that advocates are knowledgeable about both the legal remedies as they pertain to firearms and the processes and procedures in their communities for implementation of these new remedies.
The Virginia Domestic Violence and Firearms Workgroup worked with local, state, and national partners to create new resources to support implementation of firearms restrictions in communities across Virginia. The toolkit is intended to serve as a foundational resource for sexual and domestic violence advocates – in their work with survivors and communities – to maximize safety and to ensure compliance with Virginia law.
For more information on how to best use these tools and/or for technical assistance and training to support implementation in your community, please contact the Virginia Sexual & Domestic Violence Action Alliance at training@vsdvalliance.org.
To download this resource, click here.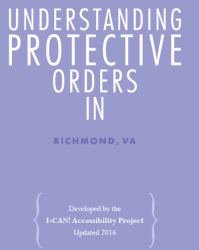 The I-CAN! Understanding Protective Orders in Richmond, Virginia Booklet describes what a protective order is, the types of protective orders, the process of obtaining a protective order in Richmond, Virginia, tips about going to court, what to do after you receive a protective order, and various resources.
Attached is (1) the English version of the booklet, (2) a large print English version of the booklet, and (3) a Spanish version of the booklet.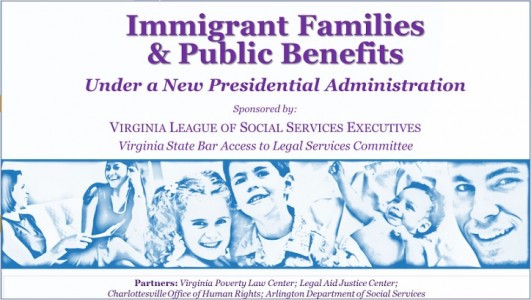 Recent changes to immigration enforcement have resulted in social services agencies across Virginia reporting decreased numbers of immigrant families requesting access to services. Some immigrant families even seek to withdraw their U.S.-born children from crucial benefits for which they are eligible due to fear of immigration enforcement. This PDF document is from a webinar given on March 31, 2017, to discuss changes in the immigration enforcement landscape, its impact on immigrant communities, immigrants' eligibility for public benefits for themselves and their U.S.-born children and strategies to encourage immigrant families to continue to access public benefits for which they are eligible. The webinar was sponsored by the Virginia League of Social Services Executives, Legal Aid Justice Center, Virginia Poverty Law Center and the Virginia State Bar Access to Justice Committee.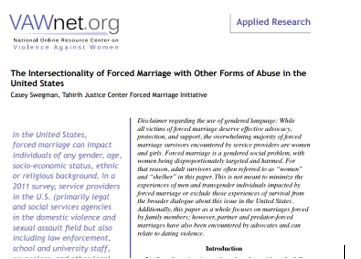 In the United States, forced marriage can impact individuals of any age, gender, socio-economic status, ethnic or religious background. In a 2011 survey, service providers in the U.S. (primarily legal and social service agencies in the domestic violence and sexual assault field but also including law enforcement, school and university staff, counselors and other legal professionals) reported encountering as many as 3,000 known or suspected cases of forced marriage (Tahirih Justice Center, 2011). The current article is a follow up looking at the intersectionality of other forms of abuse and forced marriage.